Nasdaq Point of Presence (POP)
Nasdaq Point of Presence (POP) provides customers a fast, convenient, and cost-effective way to connect to our markets. Through our POP service, Nasdaq offers our customers redundant high-speed, low latency fiber network handoffs in strategic financial data centers to extend our world-class service outside of our primary data center in Carteret, NJ.
Our POPs give customers the ability to simply cross-connect to the Nasdaq network and receive all of our market data access and order entry capabilities as they would in our primary data center in Carteret. Previously, customers would have had to either purchase a dedicated telecommunication circuit, or contract with a vendor to connect from outside of our Carteret facility.
Nasdaq has U.S. POP locations in Secaucus (Equinix NY4) and Chicago (Equinix CH4), as detailed below.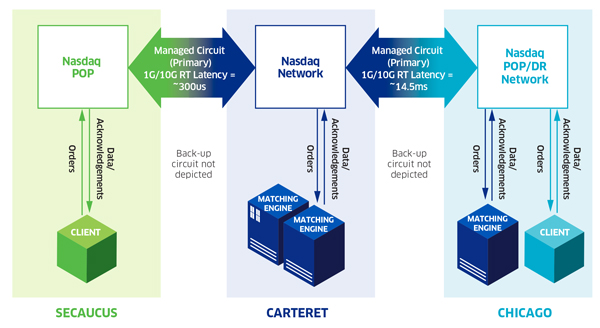 Secaucus POP
Our Secaucus POP is located within the Equinix NY4 facility at 755 Secaucus Rd, Secaucus, NJ.
Chicago POP
The Chicago POP is located within the Equinix CH4 facility at 350 E. Cermak Rd, 8th floor, Chicago, IL
Recently announced in our ETA #2015-54 and OTA #2015-10, Nasdaq is moving it's DR from Ashburn, VA to Chicago, IL. Although designated as Nasdaq's official DR site, the Chicago POP will be a "hot" site in which customers can both receive market data and send orders even when the matching engine is live in Carteret.
Flexible POP Options:
Nasdaq Markets and Third Party Data Services (where available) via 1Gbps Ultra or 10Gbps
Nasdaq Fixed Income Only via 1Gbps Ultra
Nasdaq NFX Only via 1Gbps Ultra or 10Gbps
Order Today!
POP handoffs can be ordered through the Nasdaq CoLo and Connectivity Console - our customer portal. Customers who place orders through the portal will receive a Letter of Authorization (LOA) from Nasdaq. The LOA will allow clients to subsequently request a cross connect from Equinix. Contact CoLo Admin if you don't have access to our CoLo and Connectivity Console.
Customers who do not have a presence in NY4 or CH4 can either connect through an extranet, ISV or an Equinix approved telco provider. Clients who wish to have new dedicated telco circuits installed can contact any of these connectivity providers (note this is not an exhaustive list).